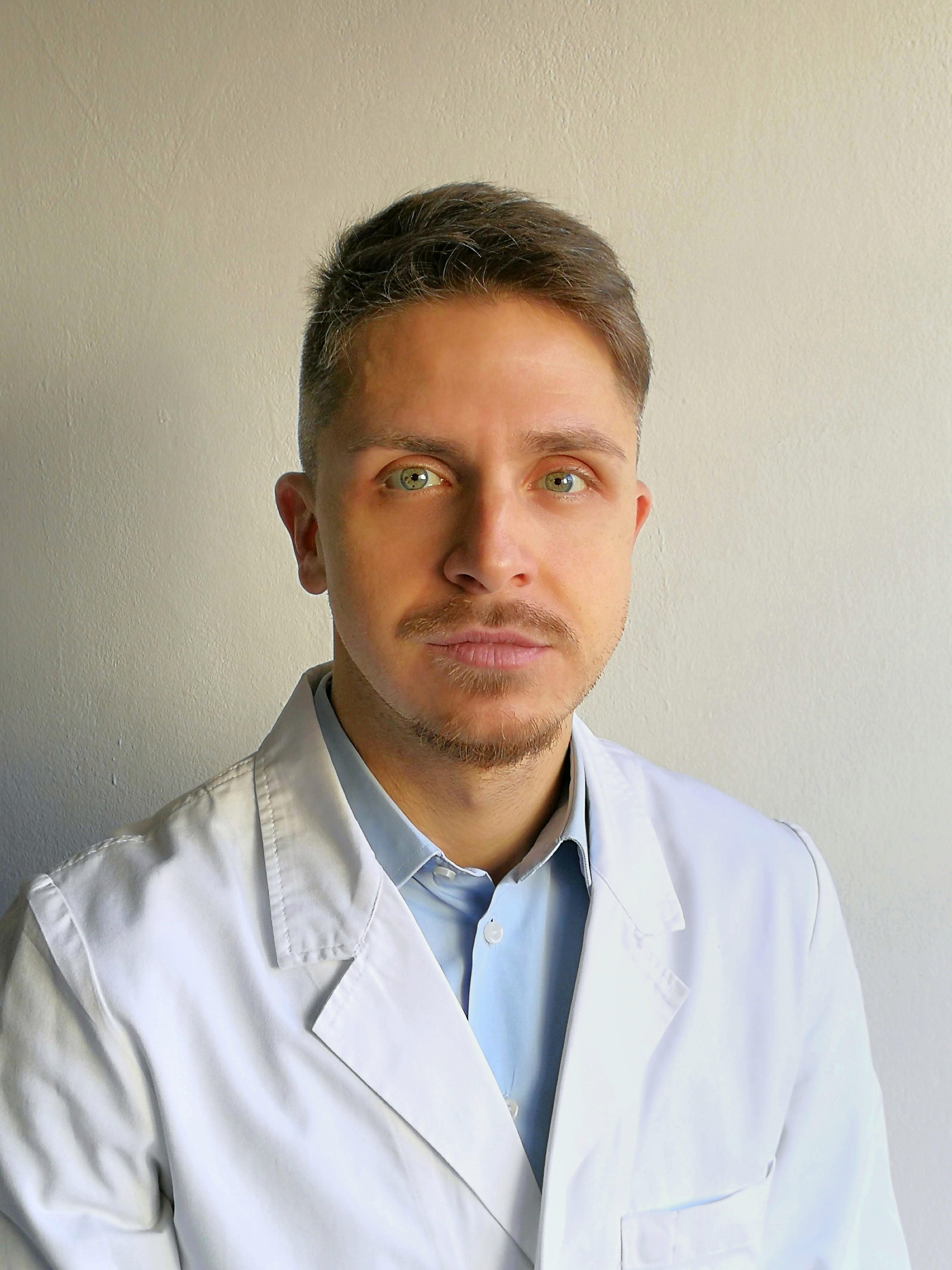 Diabetologia – Endocrinologia

Nato a Roma, 11 gennaio 1983
Istruzione e formazione
Marzo 2013 Specializzazione in Endocrinologia e Malattie del Ricambio conseguita il 21 marzo 2013 presso l'università degli studi di Roma "Sapienza" con la votazione di 70 cum laude, discutendo una tesi sperimentale dal titolo "Associazione genere-relata tra diabete mellito tipo 2 e polimorfismi del gene del recettore 1 del peptide vasoattivo intestinale" relatore Prof.ssa S. Morano
Luglio 2007 Laurea in Medicina e Chirurgia conseguita presso l'Università Cattolica del Sacro Cuore sede di Roma, Policlinico Universitario "Agostino Gemelli" in data 24 luglio 2007 con la votazione di 110/110 cum laude, discutendo una tesi sperimentale dal titolo "Helicobacter pylori e Tiroidite Cronica Autoimmune", relatore Prof.ssa G. De Rosa.
Luglio 2001 Diploma di maturità scientifica conseguito nell'anno scolastico 2000/2001 presso il Liceo Scientifico Statale "Archimede" a Roma con la votazione di 100/100.
Aprile 2007 Corso BLS-D
2011/2012 Corso regionale di II livello in ottimizzazione della terapia insulinica mediante utilizzo di microinfusore di insulina e sistema integrato. Corso regionale sul calcolo dei carboidrati nell'utilizzo del microinfusore di insulina. Corso sul monitoraggio in continuo della glicemia e microinfusore di insulina e monitoraggio in retrospettivo.
Esperienza lavorativa
Dal 1/12/2017 ad ora Dirigente Medico SOSD Diabetologia e Malattie Metaboliche con contratto a tempo indeterminato presso ASL Verbano Cusio Ossola (Piemonte) con attività ambulatoriale e di consulenza in ambito diabetologico e endocrinologico presso gli ospedali di Verbania, Omegna e Domodossola.
Da gennaio 2015 a novembre 2017 Disease Area Specialist nell'area Cardiovascolare presso Bristol-Myers Squibb con responsabilità scientifica di sede (Roma) e nazionale nell'ambito della Direzione Medica.
Da dicembre 2013 a gennaio 2015 Medical Science Manager nell'area Cardiovascolare presso Bristol-Myers Squibb, con responsabilità per conto della Direzione Medica delle aree Emilia-Romagna, Veneto e Toscana, con sede a Bologna.
Da aprile a dicembre 2013 Attività libero-professionale come Endocrinologo, Diabetologo e Dietologo presso proprio studio privato a Roma, con esecuzione di ecografie tiroidee e dei linfonodi del collo.
Dal 2008 al 2013 Scuola di Specializzazione in Endocrinologia e Malattie del Ricambio, Policlinico Umberto I, "Sapienza" Università di Roma
Attività seguite durante la Scuola di Specializzazione
Day Hospital e attività ambulatoriale nel campo dell'obesità e chirurgia bariatrica, diabete mellito tipo 1 e tipo 2, LADA, MODY, diabete gestazionale, malattie della tiroide (autoimmuni e neoplasie) con esperienza in ecografia della tiroide, malattie del surrene, diagnosi e trattamento delle ipertensioni secondarie, osteoporosi, andrologia e tumori neuroendocrini.
Attività di reparto presso il Dipartimento di Medicina Interna e Specialità Mediche (Università Sapienza Roma, Policlinico Umberto I), presso l'UOC di Medicina Interna (primario Prof. Sebastiano Filetti) per 6 mesi. Tirocinio presso il DEA del policlinico Umberto I di Roma per un mese.
dal 2008 al 2013 Sostituzioni di medici di medicina generale
dal 2012 Collaboratore di ricerca presso Istituto Nazionale Tumori di Roma "Regina Elena" UOSD Endocrinologia, responsabile dott.ssa M. Appetecchia
dal 2008 al 2012 Partecipazione in qualità di subinvestigator in diversi Trial Clinici Randomizzati internazionali (BI 1218.16, BI 1218.40, BI 1218.62) per conto di Boehringer Ingelheim e ad uno studio osservazionale multicentrico internazionale (SOLVE) per conto di NovoNordisk in ambito diabetologico. Partecipazione in qualità di subinvestigator in un protocollo osservazionale internazionale nel campo dell'endocrinologia oncologica (Symnet) per conto di Ipsen.
Scientific Publications
Original Articles
Paladini F, Adinolfi V, Cocco E, Ciociola E, Tamburrano G, Cascino I, Lucantoni F, Morano S, Sorrentino R. Gender-dependent association of type 2 diabetes with the vasoactive intestinal peptide receptor. Gene. 2011 Dec
Abstracts:
De Rosa A, Testa A, Adinolfi V, Fiore GF, De Rosa S, De Rosa G Association between Helicobacter pylori infection and chronic autoimmune thyroiditis 13° International Congress of Endocrinology, Rio de Janeiro, Brasile (2008)
Adinolfi V, Mandosi E, Fallarino M, Rossetti M, Gatti A, Morano S. Waist circumference reduction after insulin detemir therapy in type 2 diabetes patients previously treated with NPH. 33th National Congress of the Italian Society of Endocrinology.
Adinolfi V, Paladini F, Fallarino M, Carnovale A, Rossetti M, Turinese I, Tamburrano G, Ciociola E, Lucantoni F, Sorrentino R, Morano S Associazione sesso-specifica tra polimorfismi del recettore 1 del peptide vasoattivo intestinale e diabete di tipo 2 24° Congresso Nazionale della SID 2012
Mandosi E, Fallarino M, Di Stasio ME, Tarquini G, Adinolfi V, Turinese I, La Torre R, Rech F, Morano S Metabolic control and fetal growth parameters in women of different ethnicity with gestational diabetes 36th National Congress of the Italian Society of Endocrinology
Rota F, Baldelli R, Maschio M, Barnabei A, Adinolfi V, Paoloni A, Rizza L, Dinapoli L, Appetecchia M Evaluation of cognitive function in adult GHD patients 36th National Congress of the Italian Society of Endocrinology
Rota F, Baldelli R, Bernabei A, Paoloni A, Adinolfi V, Rizza L, Izzo F, Appetecchia M Everolimus treatment in a patient with ileal NET 36th National Congress of the Italian Society of Endocrinology
Baldelli R, Carosi M, Rota F, Paoloni A, Rizza L, Adinolfi V, Visca P, Covello R, Telera S, Barnabei A, Scaroni C, Aimaretti G, Facciolo F, Pompili A, Pescarmona E, Appetecchia M O6-Methylguanine DNA methyltransferase in lung neuroendocrine cancer and aggressive pituitary adenomas 36th National Congress of the Italian Society of Endocrinology
Other:
Syllabus of Corso di Alta Formazione SID "Diabete tipo 2, terapia insulinica e…rischio cardiovascolare" Roma 2011. "Le situazioni particolari…la cardiopatia ischemica silente" Autori Susanna Morano, Valerio Adinolfi. (Training course by Italian Society of Diabetes SID Type 2 Diabetes, insulin therapy and…silent ischemic cardiopathy", authors Susanna Morano and Valerio Adinolfi
Baldelli R, Barnabei A, Rota F, Adinolfi V, Paoloni A, Di Giacinto P, De Leo A, Mereu M, Appetecchia M Thyroid disorders during thyrosin-kinase inhibitors therapy AME (Associazione Medici Endocrinologi) flash n.18 july 2013